MASS TIMES
---
WEEKEND
Saturday: 5:00 PM (Sunday Anticipation)
Sunday: 9:00 & 11:00 AM
WEEKDAY
Monday, Wednesday, Friday: 6:45 AM
Tuesday and Thursday: 8:15 AM; Saturday: 8:15 AM followed by opportunity for the Sacrament of Reconciliation
OFFICE HOURS
---
PARISH OFFICE HOURS
Mon - Fri 8:00 AM - 4:00 PM


The parish office is closed on major holy days and some holidays.

Parish Office: 414-258-8821
COVID UPDATES
---
St. Jude Liturgy COVID Protocols
We have good news that Covid is receding and it is safer to get about. Because of this and the longing to really pray with each other, we are adapting our seating in church. While we have retained the back section and side chapels for masked people only, the front of the main section of church is now available for the use of every pew and masks are optional.

TOSA FOOD PANTRY
---
COLLECTIONS FOR THE HOUSE OF PEACE
AND TOSA FOOD PANTRY
Our monthly food pantry collections are for the House of Peace and Tosa Food Pantry. Non-perishable items may be placed in the collection baskets located near the south entrance of the church. Please, no expired items. Our boxes for monetary donations will be located on the communion rails at the Masses on the first weekend of each month.

Store hours:


Wedn

esdays 10:00 AM to 4:00 PM




Saturdays 9:00 AM to 2:00 PM

​
De
ck the Halls with great savings on holiday decor and more this week at the St. Jude the Apostle
Thrift Shop. Shop our large selection of holiday decor - great for everywhere in the house and even some for outside. Choose from ornaments, table decor, decorations as well as holiday apparel. Great Christmas savings in our 25¢ Red Tag Clearance bins and fresh new savings on the $1 Clearance Rack. There is always SOMETHING NEW EVERY DAY!
Would you like to come and join our team this holiday season? We are actively seeking volunteers to work in the store and help with sorting, pricing, customer service, and more. This is a great opportunity for students looking to earn service hours. For more information, stop by the store or contact the store manager, David Heckendorf at

[email protected]

or call the store during regular store hours on Wednesdays 10:00 AM-4:00 PM and Saturdays 9:00 AM-2:00 PM.
Wednesday, Dec. 21 10:00 AM --4:00 PM
Saturday, Dec. 24 CLOSED
Wednesday, Dec. 28 TBA or CLOSED
Saturday, Dec. 31 CLOSED
Wednesday, Jan. 4 Regular hours resume
The donations shed will be closed from Dec. 23 through Jan. 1.

OUR PARISH WELCOMES YOU!
---
ST. JUDE THE APOSTLE PARISH
734 Glenview Ave, Wauwatosa, WI 53213
(414) 258-8821

EMAIL & TEXT UPDATES
---
SIGN UP
to receive Email and Text Updates from Saint Jude the Apostle!
New Hymnal Sponsorship
The new hymnals are Gather IV and contain a broader variety of music, yet classic music as well. The goal is to hand out a half sheet of paper each week for supplemental purposes with Mass parts in the inside cover and throughout the new hymnal.
The cost per hymnal will be $25 so we are looking for sponsorship of these new hymnals. A sticker will be placed inside each copy so we are able to name who is being memorialized in the hymnals. There will be one name per hymnal.
You can be a part of this by:
Clicking the Online Giving header on this page, then the Home tab, and New Hymnal Fund
Or by sending a check (with "hymnal" on memo line) for the number of hymnals you wish to sponsor ($25, $50, $75, $100 . . .) and name/s of a person/s you wish us to remember. You can place an envelope with this in the collection or send it to the parish office.
Chocolates Can Be Ordered
For Delivery Before Christmas
Hand dipped chocolates from a popular Oshkosh candy shop are available for purchase until Dec. 12. The premium confections will be delivered on Dec. 19-- just in time for Christmas.
The sale of Oaks Chocolates, sponsored by the Women of St. Jude, features one-pound boxes of almond toffees, meltaways, pecan clusters, cherry cordials and others for $20. Oaks has been in business for more than 100 years and is well known in the United States for their quality chocolates.
The sale is a pre-order, pre-paid event. Obtain order form here. (No printer? Call Patti for a copy at 414-875-0875.) Drop off order and payment by Monday, Dec. 12 at the parish office or the school. Orders also can be mailed to the parish office, 734 Glenview Ave, Wauwatosa, WI 53213 but must be received by Dec 12. Make checks payable to Women of St. Jude.
Pick-up will be Monday, Dec. 19, from 2:30 to 4 p.m. on "Sweet Street" outside the school office. For an alternate time, call Denise, 414-617-0540, or Patti, 414-875-0875.
Strategic Plan Has Approval
On June 1, 2022 the Pastoral Council approved the Parish Stragetic Plan for 2021-2028. Please access the document here.

Weekly reading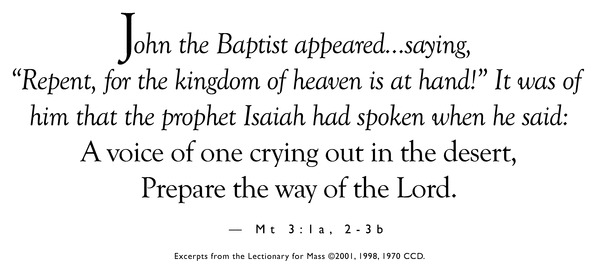 Weekly reading
Readings for the week of December 4, 2022
© Liturgical Publications Inc